RTD probe Construction
Construction of an RTD Probe
 A probe is an complete assembly composed of an element, a sheath, a lead wire, and a termination or connection. There are a number of ways to wire the sensors, along with an unlimited number of probe or sensor constructions to choose from.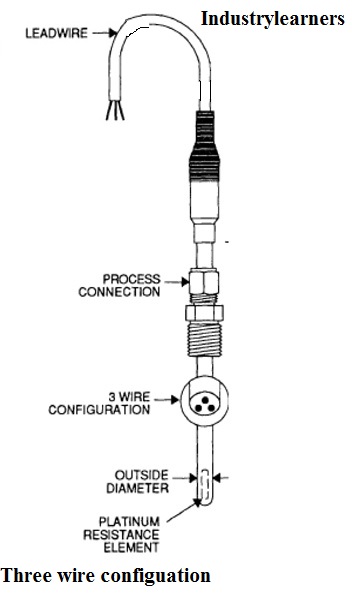 RTD Wiring Arrangement
An RTD can be connected in a two, three, or four-wire configuration. The two-wire configuration is the simplest and also the most error prone. In this setup, the RTD is connected by two wires to a Wheatstone bridge circuit and the output voltage is measured.
four Wire RTDs are even more accurate than their 3 wire RTD counterparts because they are able to completely compensate for the resistance of the wires without having to pay particular attention to the length of each of the wires. This can provide significantly increased accuracy at the relatively low cost of increased copper extension wire.
Wire Materials
lead wire materials, care should be taken to select the right lead wires for the temperature and environment the sensor will be exposed to in service. When selecting lead wires, temperature is by far the primary consideration, however, physical properties such as abrasion resistance and water submersion characteristi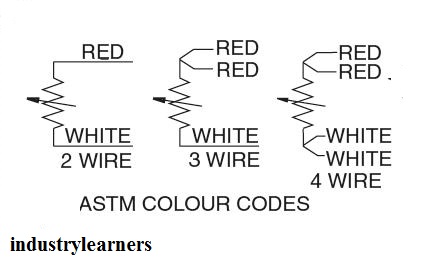 cs can also be important. The three most popular constructions are:
– PVC Insulated Probes offer a temperature range of -41 to 108°C, with good Abrasion Resistance and applicable for Water Submersion.
– PFA Insulated RTD Probes offer a temperature range of -268 to 262°C with Excellent Abrasion Resistance. They are also great for Water Submersion Applications.
– Although Fiberglass Insulated RTD Probes offer a higher temperature range of -73 to 484 °C, its performance under abrasion or water submersion is considered to be not as effective.